Welcome to hk permanent makeup clinic
A Few Quick Tips About Eyebrow Micro-blading
Posted on April 18 2023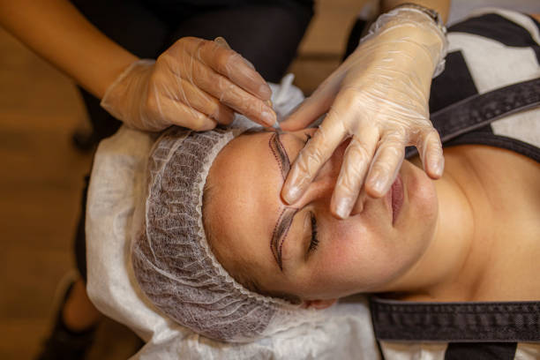 Eyebrow micro-blading is a cosmetic technique that is rapidly gaining popularity to achieve perfect, natural-looking eyebrows. Micro-blading is a semi-permanent solution for people who want to enhance their eyebrows' shape, colour, and thickness. The technique involves using a fine needle to create tiny, hair-like strokes that mimic the natural growth of eyebrow hair. If you are considering micro-blading, here are a few quick tips you should keep in mind to ensure the best possible results.
1) Do your research:
Before committing to microblading, it is essential to do your research. Find a reputable, experienced microblading technician who has a portfolio of their work and positive reviews from previous clients. Look for someone who is licensed, certified, and trained in microblading, and has a clean, sanitary workspace. You may also want to ask for before-and-after photos of their work on clients with skin tones and eyebrow shapes like your own.
2) Prepare for the procedure: 
Before the microblading procedure, you should avoid alcohol, aspirin, and any blood-thinning medications for at least 24 hours. You should also avoid waxing, threading, or tinting your eyebrows for at least a week before the procedure. The microblading technician will also ask you to avoid swimming, sweating, and sun exposure for at least a week after the procedure.
3) Discuss your expectations with your technician:
During your consultation with your microblading technician, you should discuss your expectations and what you hope to achieve with the treatment. Your doctor will be able to advise you on the best shape and colour for your face shape and skin tone. Be honest about any medical conditions you have or any medications you're taking as this can affect the outcome of the treatment.
4) Trust the process: 
During the microblading procedure, the technician will use a numbing cream to minimize any discomfort. The procedure typically takes 3-4 hours to complete, depending on the desired look. The doctor will first draw on the shape of your new eyebrows with a pencil, using your facial features as a guide. Once you are satisfied with the shape, the technician will use a fine needle to create tiny, hair-like strokes that mimic the natural growth of eyebrow hair. The artist will also use a special pigment that matches the colour of your natural eyebrow hair. The result should look natural and seamless.
5) Follow aftercare instructions: 
After the microblading procedure, it is crucial to follow the aftercare instructions provided by the doctor. You should avoid getting your eyebrows wet for at least a week and avoid any strenuous exercise that may cause sweating. You should also avoid sun exposure and any facial treatments or skincare products that contain acids or retinol. The doctor will provide you with a healing balm that you should apply to your eyebrows regularly to promote healing and prevent scabbing.
6) Be patient: 
It is important to be patient with the healing process after microblading. Your eyebrows will appear darker and more defined immediately after the procedure, but the pigment will fade as the skin heals. It is normal for the eyebrows to scab and flake during the healing process, and you may experience some itching and mild discomfort. However, it is essential to avoid picking at the scabs or scratching the area, as this can cause scarring and affect the result.
If you're looking for a way to enhance your natural beauty and simplify your daily makeup routine, permanent makeup may be just what you need. And if you're in Hyderabad, there's no better place to go than HK Permanent Makeup Clinic.
At HK Permanent Makeup Clinic, we specialize in a variety of semi-permanent makeup techniques lip blushing for fuller lips. Our team of experienced professionals uses high-quality pigments and state-of-the-art tools to create natural-looking results that last for months or even years.
One of the most popular services we offer is microblading, which involves using a small blade to create tiny hair-like strokes on the eyebrows. This technique is perfect for anyone who wants fuller, more defined brows that look completely natural. Our microblading machines are highly trained and use a variety of techniques to ensure that each stroke is perfectly placed and mimics the natural growth pattern of your brow hairs.
 Another popular service is lip blushing, which involves using a combination of techniques to create a natural-looking, fuller pout. Our skilled doctor uses a variety of pigments and techniques to create a customized look that complements your natural lip colour and enhances your overall appearance.
 At HK Permanent Makeup Clinic, we understand that every client is unique, which is why we take the time to listen to your needs and create a customized plan that works for you. Our goal is to enhance your natural beauty and make you feel confident and beautiful every day.
 So, if you're ready to simplify your makeup routine and enhance your natural beauty, book your appointment now with HK Permanent Makeup Clinic in Hyderabad. Our friendly staff and experienced doctors and technicians are here to help you achieve your dream look.